ShoutAbout
ShoutAbout was a joint endeavour with Alistair Tweedie (Founder of DesignRemotely.co) and took 2 forms over the course of about 4 years.
The first was a link-sharing platform which allowed a user to share a link to any website and include a call-to-action to encourage the user to interact with their project and the second was a URL shortener service.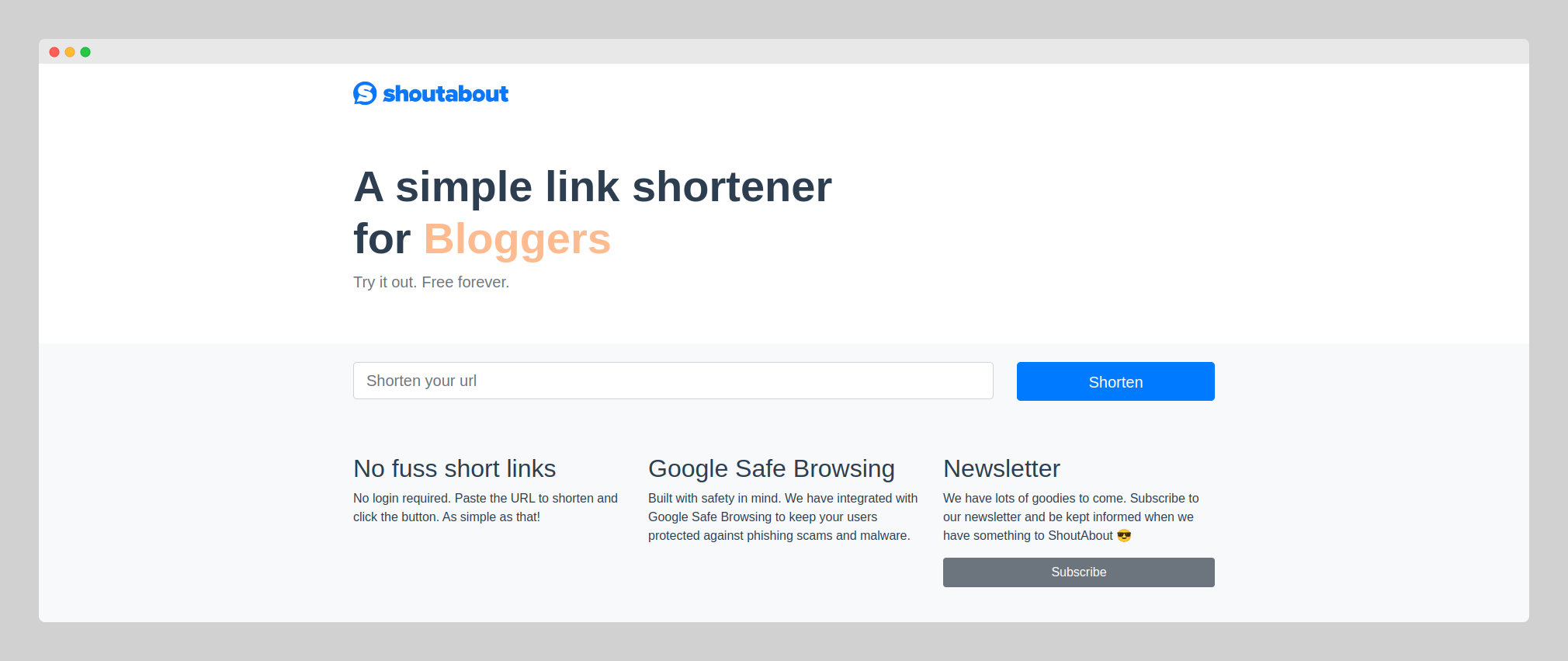 The rough rule of thumb when posting to social media was that for every piece of self-promotional content you posted, you needed to post 4 pieces of content that were relevant to your audience so that your feed was relevant to your audience and not just a constant stream of "ME ME ME, BUY BUY BUY". This meant that 80% of your social media posts were promoting someone or something else. With bigger brands, this isn't so much of an issue as they can cross-promote their products, services, blog posts etc, but with smaller companies or bootstrapping startups, that is a lot of time to invest in promoting other people's products, services and content.
The initial iteration of ShoutAbout was an attempt to provide more value to the user sharing the content by providing a call-to-action on that 80% of shared content which allowed you to promote your product or services.
Retrospective
When sharing links, original content needed to be wrapped up in a special link so the call-to-action could be added but there was a reputational and trust barrier issue that came out of this as the link shared didn't match the source i.e. the ShoutAbout link would be something like https://lets.shoutabout.it/1234 but the original source could have been https://designremotely.co/blog/vital-ux-designer-interview-questions-to-know/ and that didn't sit well with Alistair and me.
During beta, we also found that several users were creating multiple accounts and using ShoutAbout to mask malware links and removing and blocking this user activity started taking more and more time until we were doing mostly blocking tasks than developing the product and due to this we made the hard decision to shut down the service.
A few months later we spun it back up as a URL shortener service but continued to encounter similar bad actors and again shut it down due to time needed to keep the system clean.